V6 Reverse Rotation Ford Power Steering Conversion Kit for CJ Applications – $175
This kit is designed for the installer to be an easy adaption without any welding or cutting required. This is a bolt in kit. There may be obstacle's that I am not aware of. If you encounter a problem, give me a call. Includes Mounting Bracket, Bolts, Special Pitman Arm and Instructions – Gearbox not included.
Re-manufactured power steering gearboxes are available from NAPA.  If you'd prefer to obtain your own from a donor vehicle, the following vehicles used the correct reverse pattern.  Manual gearboxes, not available from NAPA, are harder to find but were installed on the same applications:
List of donor vehicles(commonly part #501-0112):
Ford Bronco (Fullsize) 1980-1996

Ford Bronco II 1984-1990

Ford E-Series Van (E-150/250/350) 1982-1996

Ford F-Series Truck (F-150/250/350, 2WD & 4WD) 1983-1997

Ford Ranger 1980-1997

Mazda Trucks (B2300, B4000, Navajo) 1991-1997
Keep in mind there are exceptions to every rule.  If you go to a wrecking yard, be sure the box you purchase is a reverse rotation gearbox.  When the steering wheel is turned clockwise, the pitman arm also turns clockwise as viewed from above.  Do NOT attempt to reuse the stock pitman arm that comes with the gearbox because the taper for the tie rod is wrong.  Serious injury can occur with the incorrect pitman arm.  The pitman arm supplied with the kit has the proper taper.
Our power steering kits will not fit with the stock 4 cylinder engine. The drivers side exhaust manifold on a V-6 requires a rear exit. Our kit will fit with most engine swaps.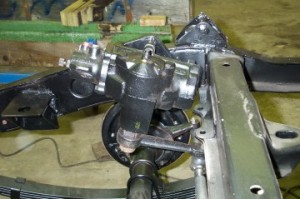 Steering boxes with a 30 Spline Shaft are a Slow Ratio Box.
Steering boxes with a 36 Spline Shaft are a Fast Ratio Box.
A conversion kit is not a direct replacement. It is a kit that replaces the stock system because of safety, better wear and durability, and better availability of parts whether it is for brakes, steering or drivetrain components. Conversion kits are designed for assistance in the replacement of stock components and may require some alterations that may differ from the normal installation procedures. Some fabricating skills may be needed.