4 inch Winch Snatch Block – $45
Import block designed for 3/8″ cable, decreases load on winch by 50%.  This can be easily installed on your cable when needed or detached when not required.  Features a detachable eye with quick-release toggle for securing block. 3 ton capacity and very necessary for winching.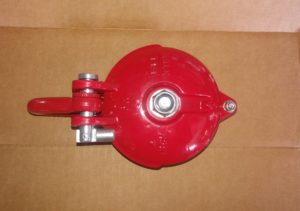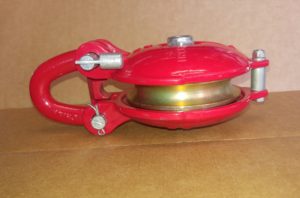 3 inch Winch Snatch Block – $ 30
This snatch block has a 3″ pulley.  It is compact and very durable. It is similar to the 4″ block listed above.
Bellevue/Warn replacement 12v winch motor Brand New – $240
These are good strong brand new motors for the Warn/Bellevue winches. If you have a brake assembly on your winch motor, and would like to re-use it, a very minor modification will be necessary to reuse it on this motor. We can easily provide this service for you with your motor brake and an additional $25.00
Warn Style Roller Fairleads – $50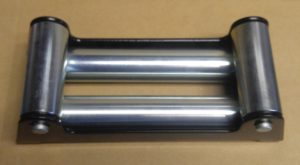 Silver contacts for high-current use and with a galvanized case.
Warn Flat Mount Winch Solenoid – $28
Bellevue/Warn Replacement Parts
Brake Band Only – $60
Brake Band and Brake Engagement Lever Assembly – $100
Brake Engagement Lever – $55
Clutch Engagement Lever – $55
Remote Push/Pull Control Cable – $32
*One Required
Remote Twist and Lock Control Cable – $55
*Two Required
Lock Pins for levers – $7 ea
3 Required   – $20
Dash ID Plate – $25
Dash ID Plate and Control Cable Assemblies – $175
*Includes –  Dash ID Plate, 2 Twist and lock control cables, and Remote Push/Pull Cable, and lock pins for levers.
Stainless Steel Hause for synthetic rope – $
Koenig PTO Reel Assembly Replacement Parts (See Tech Page for Part Numbers)
40023     Light Spring for 40027 Pin – $3.50  (image)
40024     Heavy Spring for 40469 Handle – $3.50
40025     Small Pin – $5.00  (image)
40026     Bushing – $5.00  (image)
40027     Large Pin for Engagement – $21.50  (image)
40275     Cable Clamp – $8.00
40469     Clutch Arm – $67.00  (image)
40473     Brake Shoe – $85.00  (image)
Brake Shoe and rivets Repair Kit – $32  (image)
40624     "A" Frame Assembly Complete – $310.00  (images 1, 2, 3)
114/40470         End Support Bracket – $85.00  (image)
114/40470-A     End Support Bracket Assembly – $310.00  (images 1, 2, 3)
40470     Shifter Bracket – $80
Ramsey PTO Reel Assembly Handle – $70