$550 – Winch, new motor, roller fairlead.
The original upright spur gear winch.  The Bellview 8000 is the old school father of the modern Warn 8274 winch.  Originally manufactured by Bellview as a 6000 lb winch, the design was purchased by Warn and upgraded to an 8000 lb capacity.  This unit features power-in, a manual brake and can be operated from in the cab using cable actuated controls. Winch cable available separately.
Also available with a 3 post motor, solenoid pack, and remote control for a package deal that allows for power in and power out for $900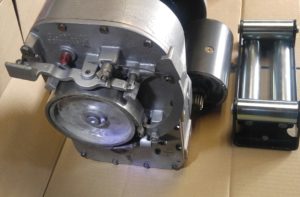 Each unit I sell has been torn down, cleaned and re-assembled with new bearings and seals. Any parts excessively worn have been replaced. The brand (Bellview or Warn) and capacity may vary depending on my inventory, but all should be available.  Please call for availability.